Products in our Columbia Maryland Tile Store Showroom
Columbia Tile & Marble in Elkridge Maryland carries tile samples by a tremendous selection of top tile manufacturers on display in our showroom including the following:
Schluter Systems
Stocking the following items:
Schluter Kerdi
Schluter Ditra
Schluter Ditra Heat
Schluter DitraXL
Schluter Kerdi Drains (SS, Bronze, Nickel)
Schluter Shower Kits (32x60, 48x48 & 72x72)
Schluter Kerdi Board 1/2" & 2" Stocked
Shower Curbs, Pans & other accessories as well
Stone & Pewter Accents
/
Lunada Bay Glasstile
Agate
Chimera
Fossil
Gendai
Haisen
Hikari
Marbleized
Mizumi
Monochromatic
Monochromatic Bars
Nebula
Old Fashioned
Old Fashioned Glow
Powder
Rainbow
San-mai
Shibui
Sumi-e
Tomei
Tozen
Wisp
100's of porcelain and ceramic tiles like:
Arpa
Ascot
Campeginese
Castelli
Cerdomus
Cosa Marble
Dom
Domus
Donna Marie Collection
DT Glasstile
Edilcoughi
Edilgres
Edimax
Emile
Gazzini
Magica
Malaga Cove
Mapei Grouts
Marble Systems
Mirage Glasstile
Mexican Handcrafted Tile
Naxos Pietra Sacra - Stock
Panaria
Porcelain
Porcelanosa
Rex
Realstone Sytems

Shadowstone
Accent Stone
Thinstone
Designer Stone
Ledgestone

Saime
Sant' Agostino
Stone Mosaics
Tagina
Unicom
Vallelunga
WarmUp Floorheat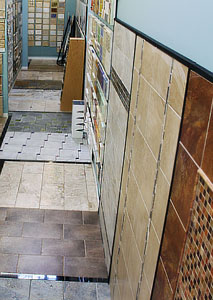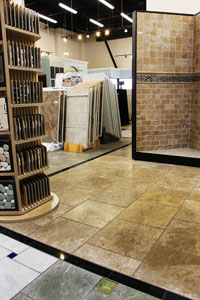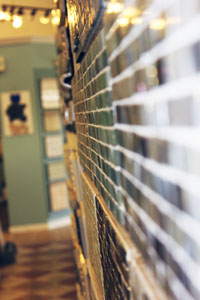 Ceramic Tile
- Ceramic tile is a mixture of clays and minerals that have been shaped, pressed, then fired at temperatures exceeding 2,000 degrees (F), to create a hard surface. The protective glaze that is applied before firing gives the ceramic tile added color and finish, and makes it resistant to stains, odors, bacteria, and scratches.
Porcelain Tile
- Porcelain tile is a type of ceramic which consists of a very fine mixture of clays and minerals similar to those found in fine dinnerware. These special clays allow porcelain tile to be fired at temperatures higher than ceramic tile, typically exceeding 2,400 degrees (F). The higher temperature results in a very dense tile. The denser the tile, the better it resists moisture.
Marble
- Marble consists of limestone that has undergone heat and pressure. A transformation takes place when the weight of overlying material, pressure from the collision of crystals, and heat from the earth's core generate temperatures in excess of 1800 degrees (F). The texture of marble depends on the form, size, and uniformity of the grains. The elemental components of the marble determine the color of the stone.
Granite
- Granite is the hardest structural stone. Granite's rich colors, stiffness, and density, make it an ideal choice for flooring, counter tops, and vanities. Granite is composed of quartz, feldspars, micas, and other minerals.
Limestone
- Limestone is a sedimentary rock that is formed on the floors of lakes and seas, when organic matter settles to the bottom. As more and more layers build up over millions of years, adding more and more weight, the heat and pressure cause chemical reactions to take place that harden the sediments into solid stone.
Travertine
- Travertine results from hot spring water penetrating up through underground limestone. When the water evaporates, it leaves behind layers of dissolved limestone and other minerals, giving it a banded appearance.
Slate
- Slate is formed from compressed layers of sediments formed under the ocean. Since it is created in layers, it can easily be split to expose beautifully textured surfaces. Slate usually exhibits many variations, even in the same quarry.
Stop by our showroom today to see beautfiul examples of all these products. We are located in Elkridge MD and only minutes from Baltimore, Columbia, Annapolis and even Washington DC area. Bring your ideas and questions. We are ready to assist with all yoru projects. Our friendly staff will help you find the perfect tile to complete your space. We will show you how mosaics, trims, and accents add that finishing touch.
When selecting tile or stone, think product, color, finish, texture, patterns, and borders, to create a one-of-a-kind environment.