Contact Us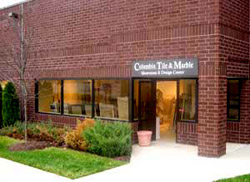 Mon - Fri 8 am - 5 pm.
Saturday Closed
Our Elkridge Maryland showroom is convenient to the Baltimore Washington metro area.
If you have any questions please call, email us at columbiatile@yahoo.com or fill in the short information request form below and click the Send button.
Directions
From Howard County / Columbia MD (5 minutes): Rt 100 East to Exit 6B Rt 1 North At the second light make a left on Troy Hill Drive Once on Troy Hill Drive make your first left, then first right into our parking lot. We are located right behind Harley Davidson.
From Baltimore MD (10-15 minutes): 95 South to Rt. 100 East (follow Columbia directions)
From Anne Arundel County Maryland: Rt. 100 East to Rt. 1 North (follow Columbia Directions)